Broadcast Technologies - IP Contribution

© Graphic Image Technologies 2016


































































































































































































































































































































































































Contribution over the Internet
Broadcasters typically contribute video over Satellite of dedicated data links.
With the advent of the Internet it has become possible to cost effectively deliver
video over public network links with products like Zixi and VideoFlow. These
solutions are increasingly becoming invaluable tools in the broadcast mix
This solution can be easily implemented using Harmonic Encoding solutions
for 1 - 16 channels and delivering the IP Transport Stream over the Internet
using VideoFlow. The "Protector" resides at the transmit site protecting your
broadcast stream while and the "Sentinal".is installed at the receive side to
ensure that you deliver a broadcast ready transport strem. This provides an
effective solution for delivering your TV Channels over the Internet.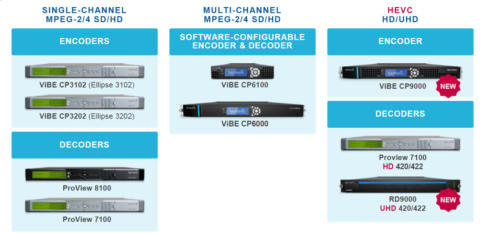 Harmonic Contribution Encoders
With Harmonic we offer solutions to Encoder 1 service with the Vibe CP3100
series encoder or between 1 and 8 services with the CP6000 family. The Vibe
CP9000 is the new Harmonic "single slice" UHD encoder and is used for High
end contribution. VideoFlow can be used to split your HD feed over 2 Satellite
tranponders where your quality is uncompromisable.
Is the cost to deliver your channel to
your DTH or DTT platform too high?
We have found a cost effective way to save you money!
Compact Regional Headends
Regional Broadcasters wishing to have Harmonics PURE video compression
quality with Statistical Multiplexing and up to 6HD or 16 SD Channels can
deplay the Exectra X2S encoding solution.
The Solution provides an ASI or IP output with Encoding, Multiplexexing and an
NMX management solution in a single 1 U Chassis.
Contact us at sales@git.co.za for more information about this solution.

Low Cost Video Playout Servers
When cost is a key driver we can offer a cost effective video playout server
which can play an MPEG stream directling into the VideoFlow protector for
remote deliver over the Internet.
Contact us at sales@git.co.za for more information