© Graphic Image Technologies 2021


































































































































































































































































































































































































Security Technologies - FLIR Marine Solutions
Maritime Systems
Outfitting both small and larger maritime platforms, FLIR Systems offers fully
marinized long-range and compact solutions. FLIR's compact multi-sensor
systems are unmatched in providing high performance in a small, lightweight
package. From riverine and Special Forces boats, to littoral craft and capital
ships, FLIR offers fully marinized surveillance and targeting sensors for a range
of missions.
FLIR's marinized long-range and gyro stabilized
sensors were developed and tailored for maritime
installation to provide maximum sensor range
performance and increased capability over typical
pan/tilt systems. Proven through extensive
operational experience in the harsh environments,
and on a variety of maritime platforms, hundreds of these rugged and reliable
sensors are fielded on vessels around the world.
FLIR Perimeter Protection Detects Intrusions From Every Angle

Thermal & Visible Security Cameras
FLIR thermal cameras see far along fence lines by detecting the heat of
intruders at great distances. Our on-board analytics and PTZ tracking
capabilities offer even greater accuracy and identification, so you'll know the
most appropriate response. FLIR's visible cameras complete the system with
models that include onboard analytics and high definition, evidentiary resolution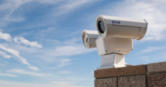 United VMS
FLIR's United VMS integrates FLIR thermal and visible cameras, in addition to
supporting analytics, PTZ tracking, and hand-off from fixed to PT cameras.
United VMS is easy-to-use, has scalable architecture, robust cyber security,
and an open-platform design for easily integrating 3rd party technologies to
create an end-to-end solution that is one-of-a-kind.
Cameleon - PSIM Software
The Cameleon™ advanced Physical Security Information Management (PSIM)
software offers security operators a highly-customizable and user-friendly
environment. The strength of Cameleon lies in its ability to control virtually any
device or technology seamlessly, including radar, drones, VMS, monitors,
switchers, DVRs, and a host of other devices and technologies.